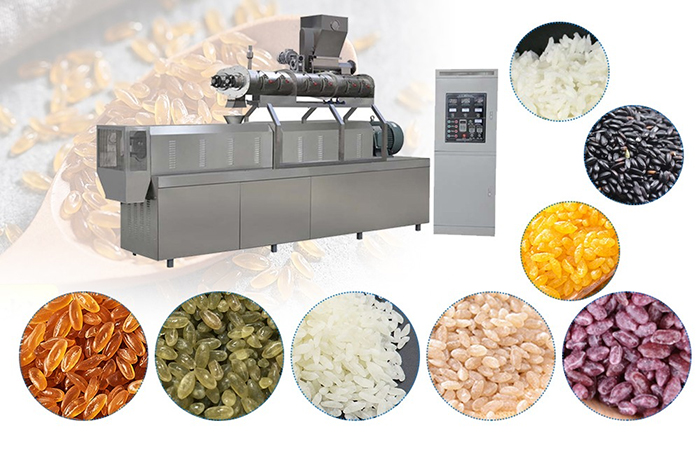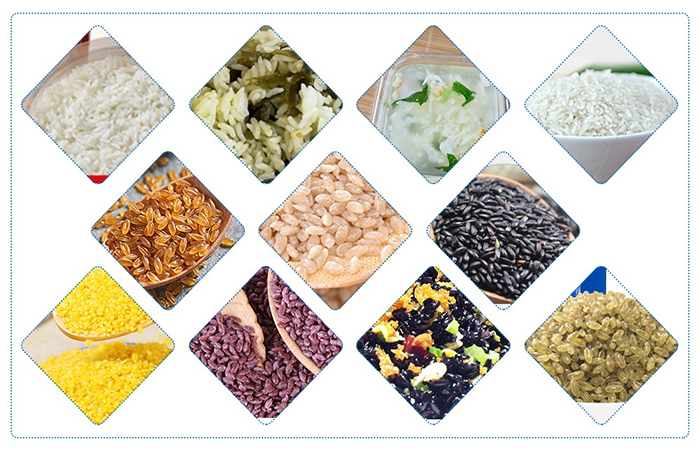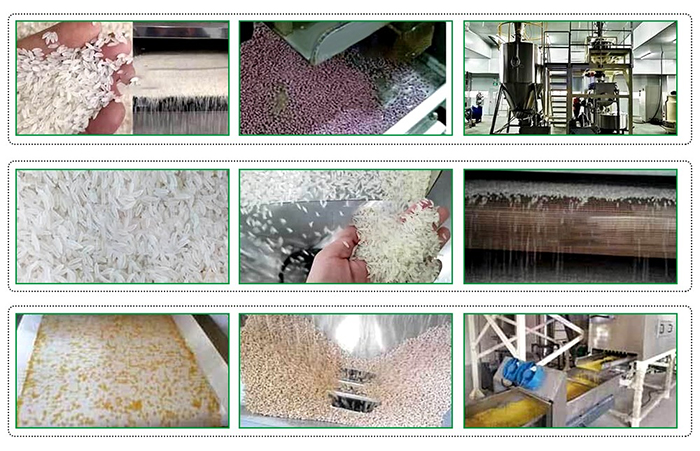 Rice is consumed as staple food option across the globe. It has been observed that, grains of rice tend to lose maximum amount of trace elements and protein during cooking. Food value of artificial rice is similar with the nutritional value of traditional rice grains. Artificial rice is obtained from broken grains of rice. In some cases, other types of cereals are added into it. Sometimes, micro nutrients like minerals (vitamins, zinc, iron) are added into it to enhance its nutritional value. Suppliers who provide artificial rice making equipments adopt twin screw extruder technique. As part of such machines, broken rice is finely milled and then blended with nutrient pre-mixes. The blending is conditioned with water and vapor. The entire mixture is fed into the extruder machines and then is granulated for engineering molding purpose.
Artificial rice looks similar like commonly consumed rice grains. But it differs from original rice in terms of food value and other characteristics. Factors like texture, color, grain size, shape, color and preparation method of artificial rice can be adjusted as per different applications. All these factors can be tailor made simply by changing parameters of food extruder equipments. One of the unique features of artificial rice is that, there is no need of its washing before cooking and its making procedure is quite easy. Moreover, this type of rice can be stored for long period. This rice can be steamed and boiled. One can even fry this rice and can make stew of it. This rice can also be blended with commonly consumed rice grains. This specific rice has distinctively chewy flavor and has nice aroma. Advanced rice production technology focuses on combining a number of nutrients to food to make it healthy.
WHAT CAN DO FROM ARTIFICIAL RICE PRODUCTION LINE?
Artificial rice
Technology used by artificial rice suppliers is effective in avoiding loss of micro nutrients that commonly occurs during processing of traditional rice. This advanced technology preserves all the necessary nutrients of rice and enhances food value of rice. Often broken form of rice grains and rice flour are mixed with minerals and vitamins to enhance their food value.
Self-heat steam rice
The package of Self-heat steam rice covers snack package, dishes package and rice package. Customers can also avail Eco-friendly and high temperature proof package, heating package (water pack and heater) and accessories like napkin, outer box and special spoon.
The outer package needs to be opened. The user needs to pour water pack on heating pack. The two packs blend mechanically and produce required warmth needed for preparing steamed rice and other dishes. The food is ready within 8 to 15 minutes. It is the perfect option for any outdoor activity like travel, adventure, police job and business trip.
Brewing type Instant rice
There is no need to use self heat pack. Only boiled water is required. The user needs to open outer package. The rice and vegetable packs need to be placed inside directly. Boiled water should be poured to water level. Blend the rice with water homogeneously and cover the entire materials for ten minutes. The rice is ready after that.
MANUFACTURING PROJECT REPORT
The Advantages of artificial rice extruder machine
This range of twin screw extruder is equipped with extrusion system, feeder, rotary cutter, control unit, heating section, frequency controller and driving unit.
Mechanical operation, uninterrupted functioning and prolonged working life
Alloy steel has been used to develop screw of this extruder system. The screw can endure high working pressure and it is durable. Its service life is long.
This extruder boasts of having forced lubrication system that ensures about long working life of its transmission section.
This machine has mechanical temperature controller to maintain precision of its parameters and to make its temperature viewing experience hassle free.
This machine has self cleaning function which is advantageous for its cleaning sans dissembling its components.
This extruder is compatible with different grains.